94% of customers were happy with their purchase
Sleepy's Hush 10" Plush Encased Coil Mattress
Helps With
Bed Partner
Pain

Toss And Turn
Overview
Stretch your budget further and stretch out on your new Sleepy's mattress. The Sleepy's Hush 10" plush mattress contours perfectly to every curve by utilizing four unique layers of foam. The combination of soft quilt foam layers and the cooling gel-infused memory foam not only provide superior pressure relief but also dissipates body heat. The encased coil support system contains individually wrapped coils that perform independently of each other to provide motion isolation, reducing tossing and turning. At the very bottom, a layer of high-density, shock-absorbing base foam helps the encased coils react to your body movement and enhances support.
Benefits
Elevating the top and/or bottom of your mattress provides targeted support to help reduce snoring, provide pain relief and make reading and watching TV more comfortable.
Using pressure relief can alleviate aches, stiffness, pain, and sleep apnea by keep pressure on the mattress consistent across the entire bed.
By working with manufacturers to reduce carbon emissions, utilize recycled materials and create biodegradable products, we're caring for you and the planet.
The goal of motion separation is to isolate movement, helping to reduce what you feel (like your partner tossing and turning) and offer pressure relief to your shoulders, hips, and back.
Proper support from your mattress can alleviate common sleep problems from snoring to soreness to sleep apnea as it distributes your weight evenly across the mattress and maintains proper joint and spine alignment.
Sleepy's Hush Plush Encased Coil Mattress Overview
Get ready to eat, sleep, nap, and repeat when you invest in Sleepy's Hush 10" Plush Encased Coil Mattress. Trust us – you won't want to leave your bed after experiencing the blissful feeling of this plush mattress contouring perfectly to your every curve. The mix of plush quilt foam layers and cooling gel-infused memory foam provides superior pressure relief, especially for side and back sleepers, and keeps you cool and comfortable as you sleep. When you're lying on this mattress there is no good reason to leave your bed.
Product Benefits
Adjustable Base Friendly

Eco Friendly

Motion Separation

Pressure Relief

Support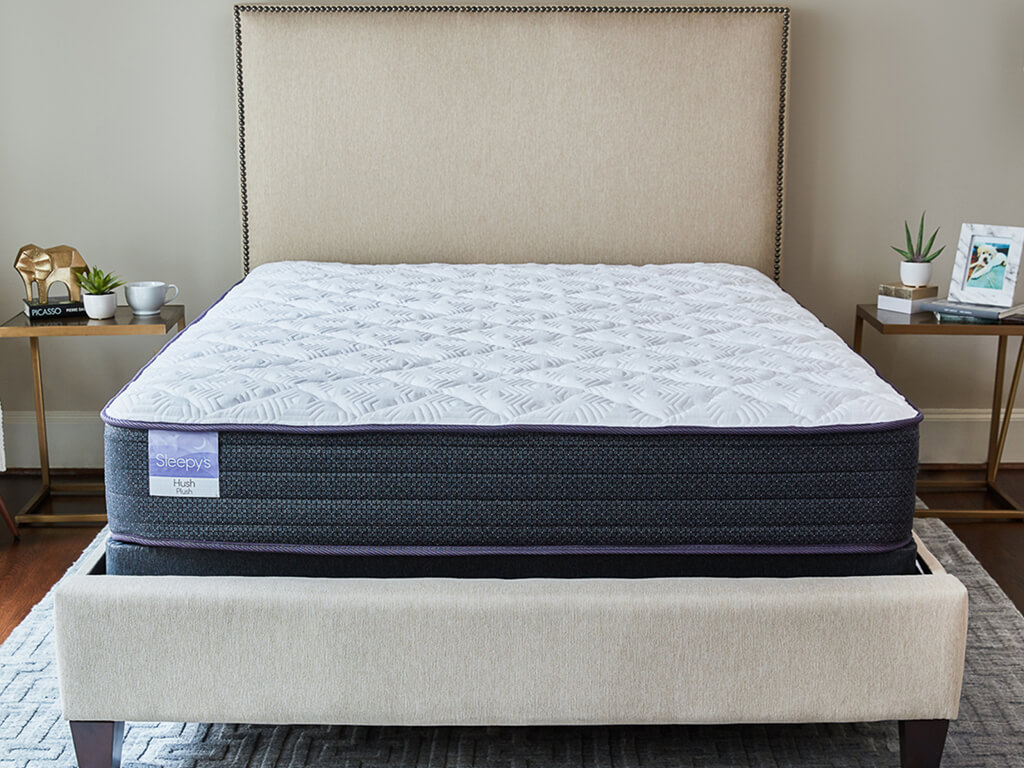 Comfort and Pressure Relief
If you sleep on your side or back you'll love the plush comfort as well as the welcome pressure relief for your curves from the quilted foam layers under the soft, knit cover.
Cooling
Sleeping on memory foam can make you hot, but the gel infused into the memory foam in this mattress reduces excessive heat build-up to keep you at a comfortable temperature.
Support
The nested encased coil support system ensures your body is fully supported by a consistent surface and prevents any unpleasant sagging or sinking sensations.