Mattress Firm 300 Adjustable Base
Why Our Sleep Experts® Love It
"If you are looking for increased pressure relief, this is the way to go with feet and head adjustment to just the right position!"- Dennis Ottochian, Sleep Expert
Helps With
Acid Reflux
Sleep Apnea
Snoring
Overview
The Mattress Firm® 300 offers a personalized sleep experience with head and foot adjustment settings designed to help alleviate joint pains and provide increased pressure relief. Plus, the wireless remote makes finding your perfect position easy with its backlit buttons and programmable memory option.
The base is 100% versatile featuring removable legs making this base compatible with all bed sets including platform beds. Protect your adjustable base with FirmCare Protection Plan.
Dimensions
Total Size
58.5" W x 79.5" L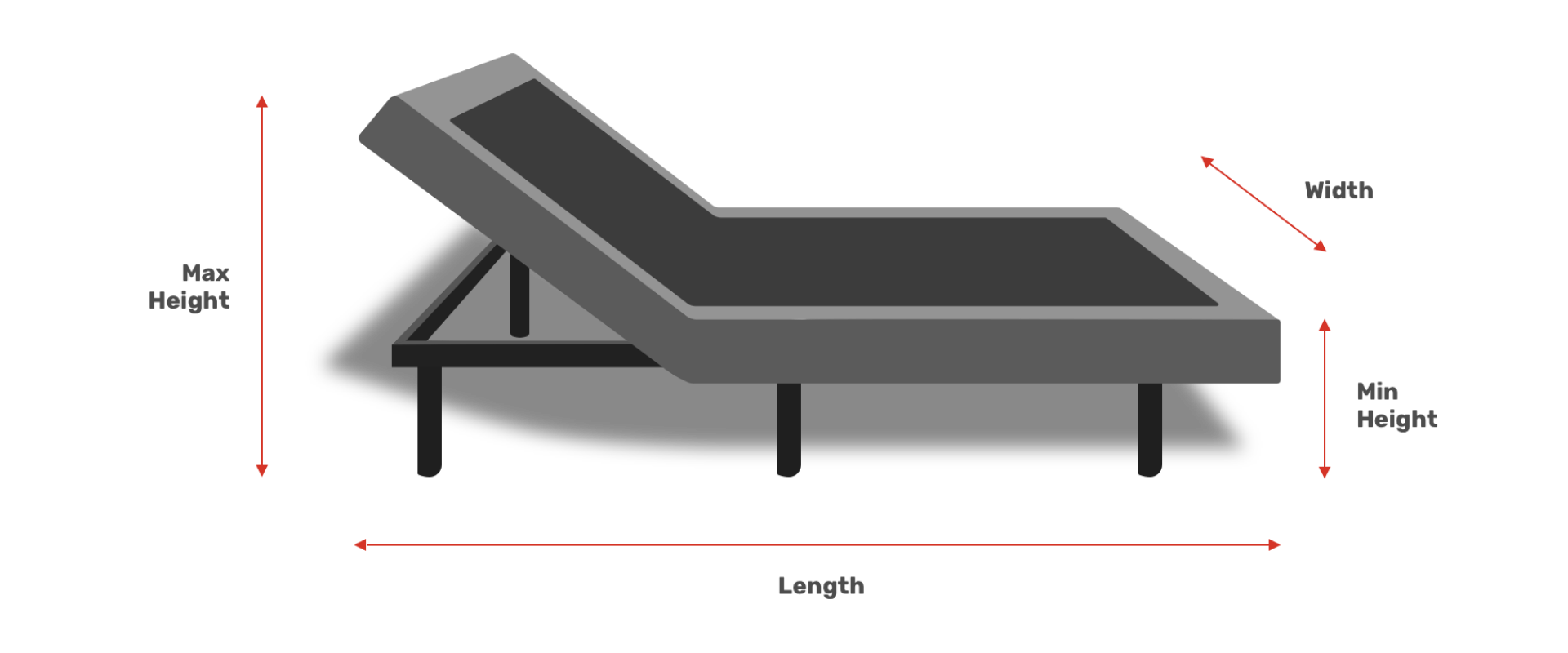 Features
Independent Head Articulation
Independent Foot Articulation
Recommended Maximum Weight 850 lbs.
Split-Sizes available to purchase via Call (877-384-2903)/Chat or In-Store
Breakdown
Frame Features

Classic Foundation Style Design
Zero-Clearance Platform Friendly
Adjustable Legs 6" – 10"
Furniture Grade Upholstery
Removable Legs

Remote

Wireless Backlit Remote
One Touch Flat
Flashlight Remote
1 Programmable Memory Option
For over 90 years, Mattress Firm® and our family of companies have made it our mission to help you find great sleep. How do we do it? For starters, our Sleep Experts® have trained over 200 hours so they can match you with a complete sleep solution: mattresses, bedding and more. Plus, you can shop confidently with our Love Your Mattress Guarantee®, which means you'll get a low price on America's best brands, delivered your way and with a 120 Night Sleep Trial®.
Includes transportation, mileage and tolls
Home protection from outside direct and elements
Delivery where you want - front door, side door or even garage
Contactless delivery, meaning we won't enter your home
Mattress Setup
and Haul Away
Includes all Free Delivery services plus:
New mattress and box spring setup
Removal of packaging material from purchased item(s) & removal of old mattress set (equal to the number of pieces purchased)
Three maximum flight of stairs purchased items can be carried
Mattress Setup and
Haul Away / Adj Base
Includes all Mattress Setup and Haul Away
services plus:
Five maximum flight of stairs purchased items can be carried
Delivery and setup of up to three mattress sets
Setup of adjustable bases purchased from Mattress Firm
FAQs
How do adjustable beds work?
Do adjustable beds help with sleep apnea?
What are the best mattresses for adjustable beds?
Does an adjustable bed help with pressure points?
Is an adjustable bed worth it?
What is a split adjustable base?
Are a motorized base, adjustable base, adjustable bed and electric base all the same thing?
Is an adjustable bed good for your back?
Can you put any mattress on an adjustable bed?