96% of customers were happy with their purchase.
Mattress Firm 900 Adjustable Base
Why Our Sleep Experts® Love It
"Top tier adjustable base with all the bells and whistles! The voice powered app makes it super convenient to adjust. The wall hugging feature is a fan favorite, making it easy to sit up in bed while still having access to your end table or nightstand."- Kyle Benish, Sleep Expert
Helps With
Acid Reflux
Sleep Apnea
Snoring
Overview
Experience unparallel sleep at an economical price with the Mattress Firm® 900 Adjustable Base. The head and feet up positioning may help relieve aches, and pains while the edge to edge lumbar section can provide superior back support. The Mattress Firm 900 is the best adjustable bed for the person who enjoys watching TV, reading or even eating in bed; the base is equipped with Therapeutic Dual Massage, Under Bed LED Lighting, voice-powered app to control the base and so much more.
The adjustable base features three per-set positions or program your own ideal position with the remote customizing the base to fit your personal sleep needs. Protect your adjustable base with FirmCare Protection Plan.
Dimensions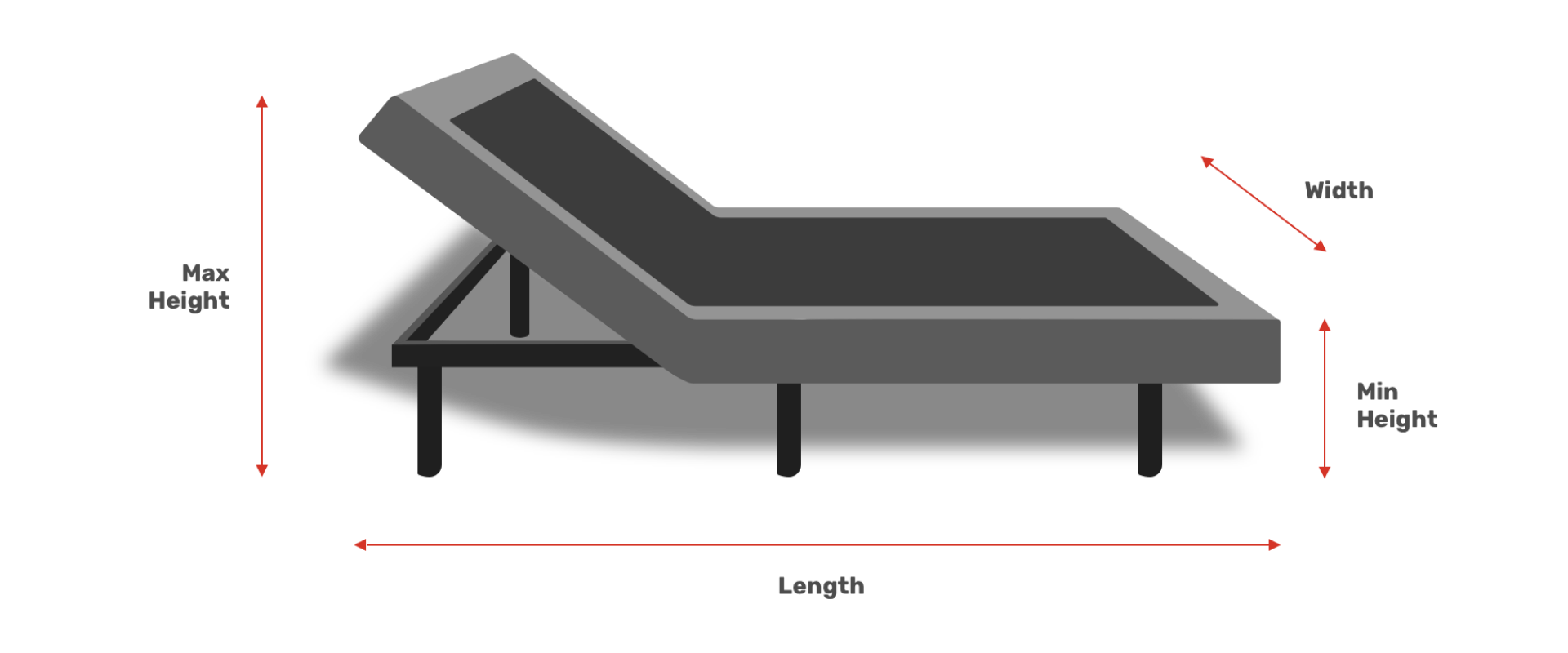 Features
Head and Feet Adjustability
Lumbar Support
Anti Snore Position
Pillow-tilt Articulation
Therapeutic Dual Massage
Voice Powered App
Energy Efficiency Rated
Back Up Battery System
Under Bed LED Lighting
Split-Sizes available to purchase via Call (877-384-2903)/Chat or In-Store
Breakdown
Frame Features

No Tools Required for Quick Assembly
Retainer Brackets Securely Hold the Mattress in Place
Adjustable Legs
Base Height: 12.25" - 18.25"

Remote

Wireless Remote
3 Pre-Set Memory Positions
Zero Gravity and Anti Snore Button
Wave and Massage Mode Button
Lounge and Incline Button
Flat Button
For over 90 years, Mattress Firm® and our family of companies have made it our mission to help you find great sleep. How do we do it? For starters, our Sleep Experts® have trained over 200 hours so they can match you with a complete sleep solution: mattresses, bedding and more. Plus, you can shop confidently with our Love Your Mattress Guarantee®, which means you'll get a low price on America's best brands, delivered your way and with a 120 Night Sleep Trial®.
Includes transportation, mileage and tolls
Home protection from outside direct and elements
Delivery where you want - front door, side door or even garage
Contactless delivery, meaning we won't enter your home
Mattress Setup
and Haul Away
Includes all Free Delivery services plus:
New mattress and box spring setup
Removal of packaging material from purchased item(s) & removal of old mattress set (equal to the number of pieces purchased)
Three maximum flight of stairs purchased items can be carried
Mattress Setup and
Haul Away / Adj Base
Includes all Mattress Setup and Haul Away
services plus:
Five maximum flight of stairs purchased items can be carried
Delivery and setup of up to three mattress sets
Setup of adjustable bases purchased from Mattress Firm
FAQs
How do adjustable beds work?
Do adjustable beds help with sleep apnea?
What are the best mattresses for adjustable beds?
Does an adjustable bed help with pressure points?
Is an adjustable bed worth it?
What is a split adjustable base?
Are a motorized base, adjustable base, adjustable bed and electric base all the same thing?
Is an adjustable bed good for your back?
Can you put any mattress on an adjustable bed?