What's making you toss and turn at night? It can be anything that's making your mind race. An uncomfortable mattress doesn't help. Our Sleep Experts® will help you select a bed, pillows and more so you can sleep and wake up well-rested every morning.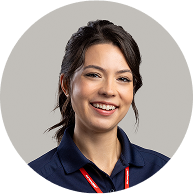 Speak with a Sleep Expert®
Our Sleep Experts® receive 200+ hours of training so you can get your best night's sleep. You can chat, call or visit us in-store.
Content on mattressfirm.com is not intended to be a substitute for professional medical advice, diagnosis, or treatment. Always seek the advice of your physician or other qualified health professional with questions you have regarding a medical condition.
Tap into more savings! Text MATTRESS to 766693 to get text alerts for online exclusives & more. Text STOP to cancel. Msg & data rates may apply.
View our privacy policy