Tempur-Pedic TEMPUR-Ergo® Extend Smart Adjustable Base with SleepTracker
Why Our Sleep Experts® Love It
"The Sleeptracker monitor is an exceptional tool that provides detailed information on the quality of your sleep for you and your sleeping partner."- Johanny Franco, Sleep Expert
Helps With
Acid Reflux
Sleep Apnea
Snoring
Overview
The TEMPUR-Ergo® Smart Bases powered by Sleeptracker®-AI creates a completely integrated system with personalized sleep analytics which silently monitors you or your partner's breath and movement and responds to snoring automatically. This adjustable base combines premium technology like Sleeptracker® which provides a personalized sleep report so you can keep track of your health as you sleep.
The four-zone massage intensifies your sleep with four zones, two zone at your head and two at your feet with three wave levels; and a zero-gravity preset option creates a weightlessness feeling relieves pressure off your back while you sleep. Protect your adjustable base with FirmCare Protection Plan.
Dimensions
Total Size
59.5" W x 79.5" L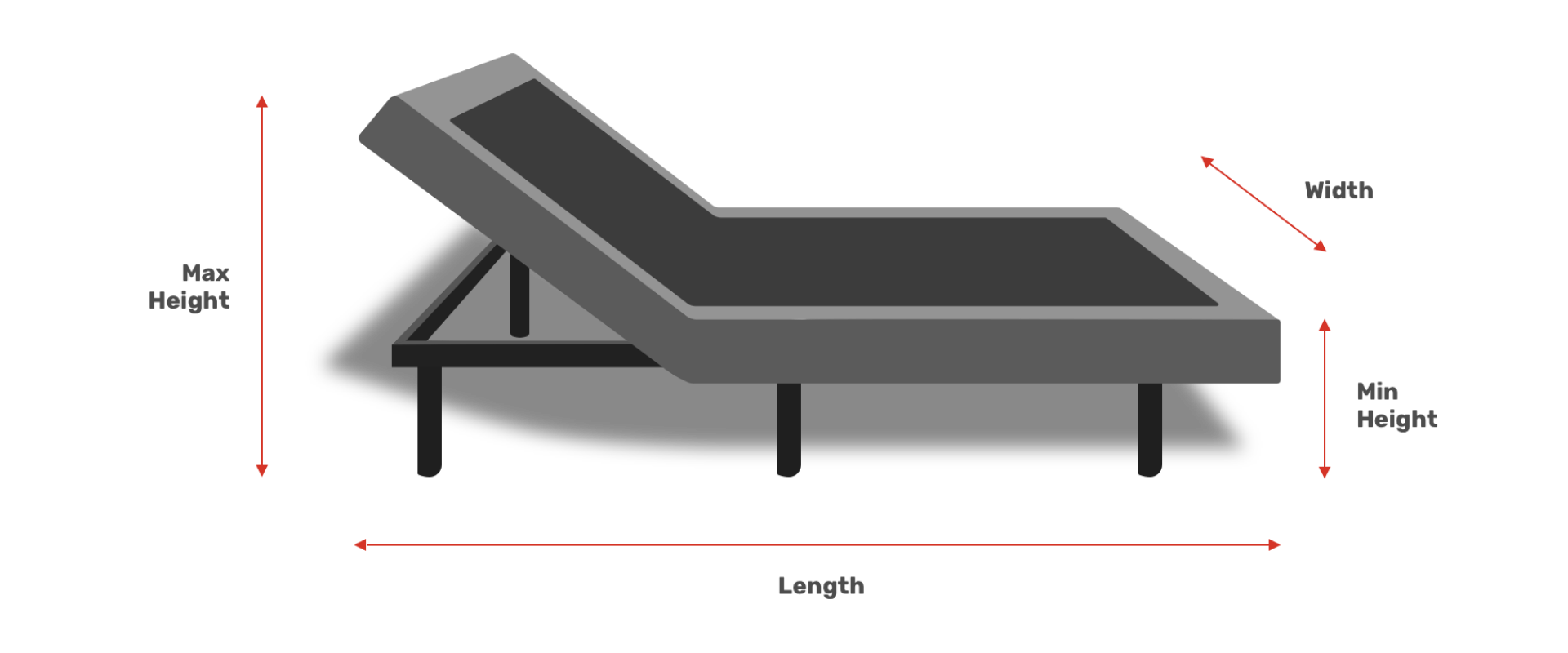 Features
QuietMode™: Gently tilts your mattress to an anti-snore position
Head and Foot Lift: Gives you control of your sleeping space, with nearly unlimited head and foot lift positions, for reading, watching TV, or working
Zero Gravity Preset: Elevates your head and feet to closely simulate weightlessness and help take the pressure off your back while you sleep
Four-Zone Massage: Unwind with a soothing four-zone massage, one zone at the head and one zone at the feet with three levels of intensity
PerfectSeat™: Exclusive Tempur-Pedic® Technology that optimizes the shape of your mattress so you can relax in a more natural position
Pillow Tilt: Enhance your head lift with a slight tilt around your neck
Split-Sizes available to purchase via Call (877-384-2903)/Chat or In-Store
Breakdown
Frame Features

Adjustable Legs/Removable Legs
Underbed Lighting
USB Ports

Remote

Wireless Remote Features one-touch preset buttons and backlit, soft-touch function keys so you can adjust in the dark
After more than 25 years, Tempur-Pedic® continues to transform the industry, continuously evolving the next generation of sleep-enhancing mattresses to ensure everyone wakes up more rejuvenated than ever, night after night after night. Yet, it's not simply about making better mattresses. It's about creating better sleep. It's understood that people change with time, and the one aspect that remains constant for anyone is a demand for the best sleep imaginable. That's why Tempur-Pedic continuously concepts, designs, researches, builds, tests, and retests (and retests) with one key qualifier above all: you. There's no middle ground for Tempur-Pedic. It's either transformative sleep, or it isn't. You want sleep that's head-clearing, body-repairing, no-tossing, no-turning, all-night-cooling sleep. It's the kind of sleep that's been the goal for decades, and Tempur-Pedic won't sleep until you do perfectly. There's a reason millions of people fall asleep on a Tempur-Pedic each night.
Includes transportation, mileage and tolls
Home protection from outside direct and elements
Delivery where you want - front door, side door or even garage
Contactless delivery, meaning we won't enter your home
Mattress Setup
and Haul Away
Includes all Free Delivery services plus:
New mattress and box spring setup
Removal of packaging material from purchased item(s) & removal of old mattress set (equal to the number of pieces purchased)
Three maximum flight of stairs purchased items can be carried
Mattress Setup and
Haul Away / Adj Base
Includes all Mattress Setup and Haul Away
services plus:
Five maximum flight of stairs purchased items can be carried
Delivery and setup of up to three mattress sets
Setup of adjustable bases purchased from Mattress Firm
FAQs
How do adjustable beds work?
Do adjustable beds help with sleep apnea?
What are the best mattresses for adjustable beds?
Does an adjustable bed help with pressure points?
Is an adjustable bed worth it?
What is a split adjustable base?
Are a motorized base, adjustable base, adjustable bed and electric base all the same thing?
Is an adjustable bed good for your back?
Can you put any mattress on an adjustable bed?