96% of customers were happy with their purchase
Sleepy's Relax 10.5" Plush Pillow Top Innerspring Mattress
Why Our Sleep Experts™ Love It
"The Relax Pillow Top is a great mattress for the price. Better support and softness than any competitor offer." - Samuel M., Sleep Expert
Helps With
Pain

Temperature

Toss And Turn
Overview
Enjoy the simple pleasure of a great night's sleep at the perfect price point with the new Relax 10.5" pillow top innerspring mattress. The combination of embrace foam and soft comfort foam layers provides you with enhanced comfort and support. Below that, the innerspring construction eliminates empty space to evenly distribute weight and give you supreme support. The 360° foam encasement that surrounds the bed gives it an extra defense against sagging and ultimately extends your comfort from side to side, and top to bottom. Read the Sleepy's Relax mattress reviews below to learn other favorite features and see what sleepers like you think of this premium mattress or you can try it yourself, in-store or by purchasing online and taking advantage of our 120-night sleep trial.
Benefits
By working with manufacturers to reduce carbon emissions, utilize recycled materials and create biodegradable products, we're caring for you and the planet.
Proper support from your mattress can alleviate common sleep problems from snoring to soreness to sleep apnea as it distributes your weight evenly across the mattress and maintains proper joint and spine alignment.

Breathable materials regulate body temperature and prevent heat buildup to create a cooler sleep experience.
Sleepy's Relax Pillow Top Innerspring Mattress Overview
Savor the cozy, pillow-top feel of the Sleepy's Relax 10.5" Pillow Top Innerspring Mattress — a plush but supportive oasis created by multiple layers of foam. If you sleep on your side, put this mattress at the top of your wishlist and enjoy the feel of the top layer conforming around your curves, relieving any shoulder and hip pressure point discomfort. All you need to do is lie back on the cozy stretch knit cover, enjoy the cloud-like cushioning, and drift happily off to sleep.
Product Benefits
Breathable

Eco Friendly

Support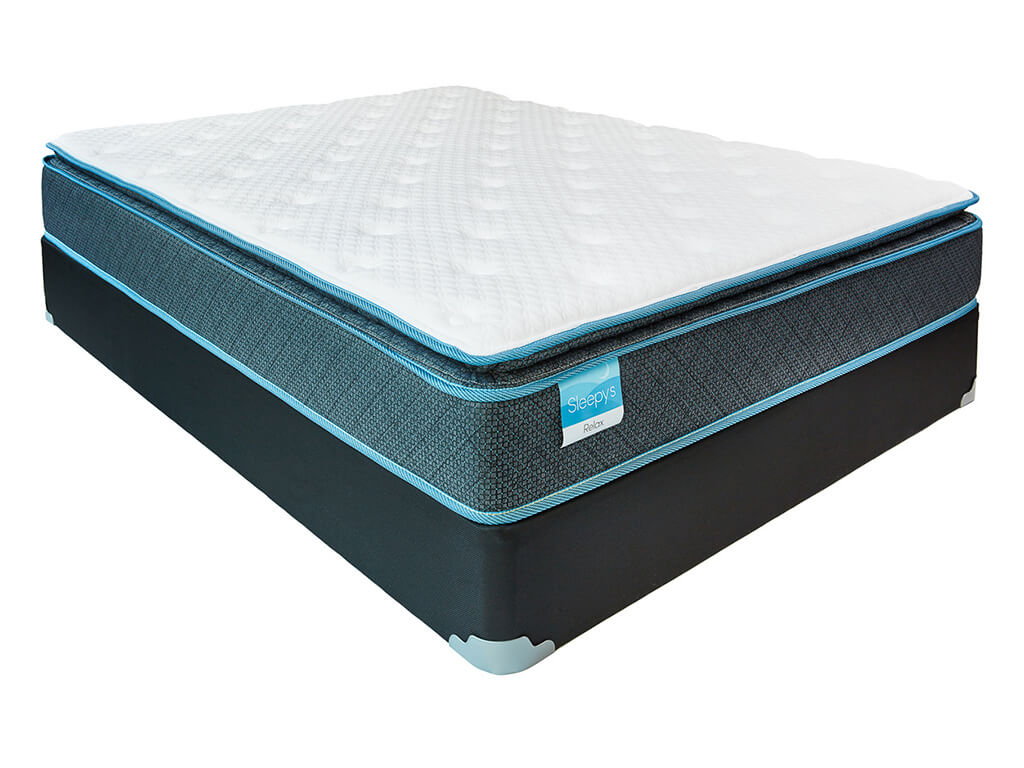 Comfort
With a pillow top that provides cloud-like cushioning, this mattress hits the sweet spot for side sleepers with three layers of adaptable foam and a fiber layer to relieve any pressure points and increase comfort levels.
Edge Support
The sides of this mattress are encased with a foam edge support, making it feel more spacious for couples.
Support
You're getting the best of both worlds: enjoying the comfort of a plush-feeling mattress while your whole body is supported by the strong and consistent interlocking coil support system—so you spring out of bed pain free.